FATHERHOOD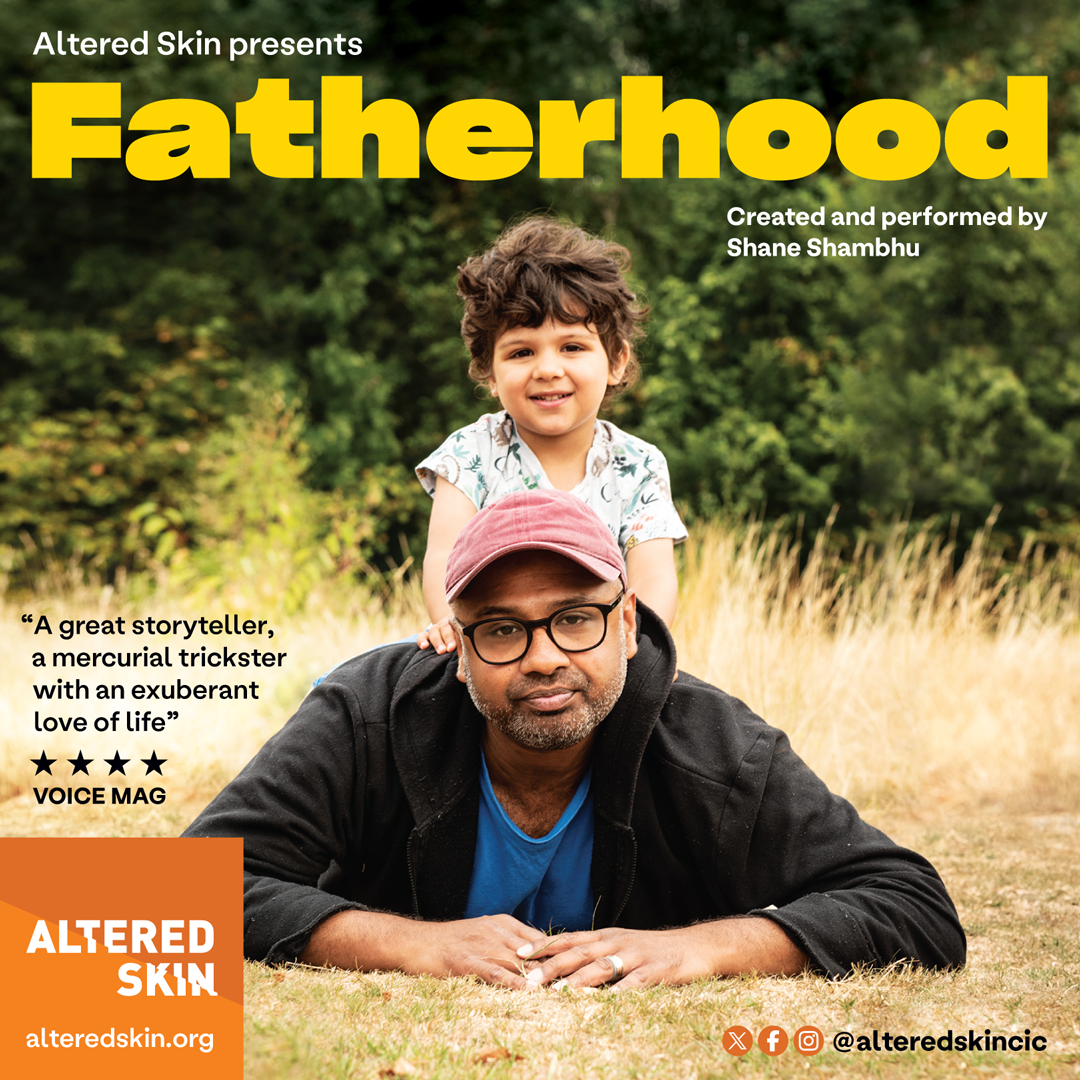 Creative team
Writer, choreographer and performer – Shane Shambhu

Dramaturgy – Amit Sharma and Anna Himali Howard

Creative consultancy: Rinkoo Barpaga

Sound design: Gerry Smith

Lighting design: James Mackenzie

Projection design: Mark Morreau

Research: Arzhang Pezhman

Additional voices: Alex Kapila and Sophie Lynch

Costume advisor: Kay Wilton

Object manipulation: Michael Crouch

Producer: SJ Watkinson

Assistant Producer: Vinitaraj Aulak
Being a father is complicated, especially when you're the father of a son of mixed heritage. Three very different characters, each with their own stories of being and having a dad, explore the highs and lows of fatherhood across generations and across continents.
Featuring Altered Skin's unique blend of physical theatre and multilingual text, this original new work traces epic journeys and ponders domestic dilemmas with humour and sensitivity.
Fatherhood features a deaf character who uses BSL as well as his own home language, a version of sign language that individual families and communities develop, often where deaf and hearing people need to communicate. The show also features several different spoken languages, Turkish, Malayalam, Tamil and German.
Every performance of Fatherhood includes creative, integrated captions. These will translate spoken and signed languages as well as describe sounds for deaf and hard of hearing audiences. The sound design also reflects the experience of sound by the deaf character.
Contains some strong language, camera flashes and references to physical violence
Tour dates spring 2024
7th March – Proteus Creation Space, Basingstoke
9th March – Barnsley Civic
12th March – Edge Hill Arts Centre, Ormskirk
14th March – Bridport Arts Centre
16th March – Attenborough Arts Centre, Leicester
21st – 23rd March – Theatre Royal, Plymouth
Supported by Arts Council England 
Making the show
In March 2020, Altered Skin was in the middle of a UK tour of its popular show Confessions of a Cockney Temple Dancer and preparing for a tour of India with development of a new ensemble piece well under way. Then the Covid pandemic happened and Creative Director Shane Shambhu found himself locked down in Austria for more than six months, going from busy artist to full time dad overnight.
However, Shane and Producer Sarah-Jane kept working over Zoom, slowly building on Shane's idea for a new show which eventually became what you're seeing today: 
"When I became a dad, the focus of my life completely shifted. I had to embrace a new identity with a different outlook and priorities from my former self. I found myself reflecting on my relationship with my own dad, and how being a father and our approaches to fathering were in some respects completely different, but in others, exactly the same. I want to celebrate this fundamental relationship in all its forms." 
Previous tour dates:
2022
27th October – FABRIC at the Patrick Studio, Birmingham
3rd November – The Dukes, Lancaster
11th November – Arena Theatre, Wolverhampton
2023
28th January – The Curve, Slough
2nd February – Nonsuch Studios, Nottingham
4th February – Lighthouse, Poole
8th February – South Street Arts Centre, Reading
10th February – Derby Theatre
11th February – The Core at Corby Cube
16th February – Kala Sangam, Bradford – also with baby friendly matinée
17th February – Harrogate Theatre
25th February – Luton Hat Factory
2nd March – Brewhouse Arts Centre, Burton upon Trent
9th March – LPAC (Lincoln Performing Arts Centre)
15th March – Riverhead Theatre, Louth
30th March – Edge Hill Arts Centre, Ormskirk
27 September – Newbury Corn Exchange
29 September – Chipping Norton Theatre
3 October – Horton Arts Centre, Epsom
4 October – The Place, Bedford
5 October – Woodville Theatre, Gravesend
6 October – Lakeside Theatre, University of Essex, Colchester
7 October – Artsdepot, London
11 October – Marlowe Theatre, Canterbury
12 October – The Spring Arts and Heritage Centre, Havant
13 October – Pegasus Theatre, Oxford
19 October – Stamford Arts Centre
Fatherhood was developed with supported from Arts Council England, In Good Company, The Sir Barry Jackson Trust and DanceXchange